Is Your Roof Under Attack?
Roofs in Lakeland and the rest of Florida present the perfect living quarters for algae, moss, and other mold. The worst culprit is a type of bacteria called Gloeocapsa Magma. It creates black streaks across your roofing – and as it eats the limestone in your shingles, it spreads. The result is ugly and dangerous. Without regular cleaning, this bacteria will deteriorate your roofing.
Algae growth on the roof can lead to premature granule loss. It makes your roof to appear much older than it is, and it creates issues that cost money and take time to fix. No roofing material is safe from this kind of wear and tear: It affects asphalt roofing, slate, metal, and tile roofs alike.
Here's the good news. There is an alternative. A professional roof cleaning will restore the original appearance of your roof and keep it from declining prematurely.
Why Should I Clean My Roof?
Where to start? Your roof might be on the top of your home, but it sets the foundation for a quality property. We always recommend that customers invest in roof cleaning solutions regularly to:
Comply with insurance policies. Many companies will cancel a plan if your roof isn't regularly maintained. This regulates your premium and keeps your insurance provider happy.
Extend the life of your roof! A regularly cleaned roof can last decades longer.
Prevent mold growth. Every home can do without a mold infestation. We protect your interior from getting impacted by killing the growth from the get-go.
With dedicated technicians, detail-driven service, and attention to detail, your roof is in good hands with the Lightning Pressure Washing team. Get your solution today!
How Do You Clean My Roof?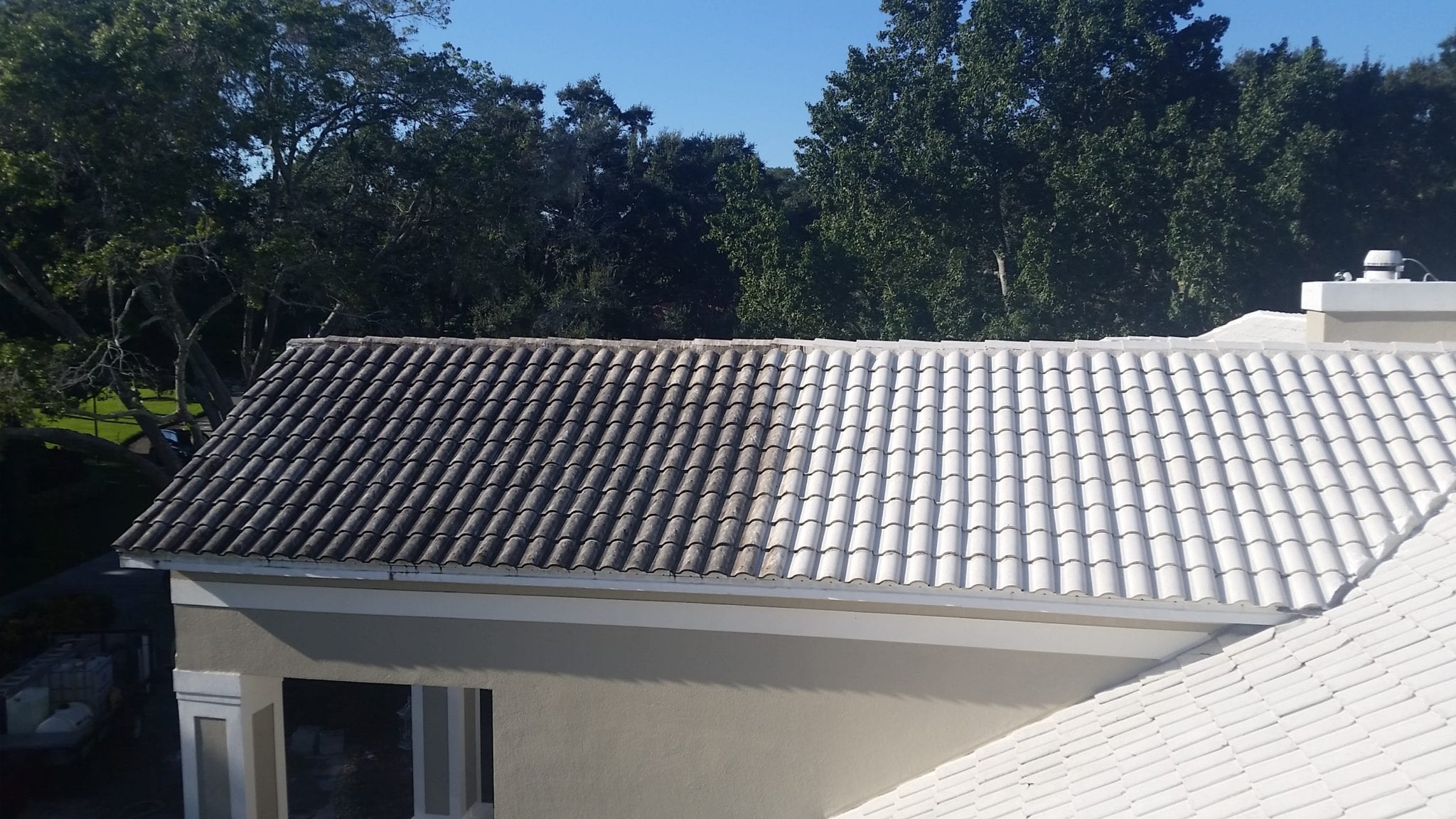 Lightning Pressure Washing uses a specially designed, very low pressure (60 to 100 psi) liquid pump to apply cleaning detergents to your roof. This method is called soft washing. Using high-volume water and low-force pressure, it gets to the root of the problem by completely killing algae and other debris on your shingles.
This means that you're getting a roof that looks like new and stays cleaner longer. Our technicians always take precautions to protect the rest of your home and its landscaping. With an extensive skillset and full training in ladder and roof safety, there's no roof cleaning situation too difficult for our team.
The Lightning team will never use high pressure on your roof. High pressure can damage your shingles, and it doesn't actually stop the problem. In effect, this outdated method causes black streaks to return quickly and it hurts your roof in the process.
Our Roof Cleaning Results
Polk City
Winter Haven
Zephyrhills
Hillsborough County
Polk County
Highlands County
Osceola County