What a difference a team of professionals can make for your home or business! Lightning Pressure Washing is here to fulfill that need for all of our Florida customers. No matter what your service needs are, you'll always get:
A team of uniformed, skilled, insured, and committed professionals
Years of experience in pressure washing and other property cleaning techniques
100% satisfaction guaranteed
Take Curb Appeal to the Next Level
Our soft washing and power washing services include:
We bring back the beautiful quality of your home with our special soft washing solution. This low-pressure alternative to power washing is the best way to remove algae, stains, and grime from your exterior. The result: We combat that humid Florida weather to preserve your property and get great curb appeal.
Our team uses pressure washing to give you a 'just like new' driveway. Using industrial power washing equipment and cleaning solutions, we can remove everything from car stains to sticky chewing gum. The result: Your concrete will look crystal clear, it will prevent slip and fall accidents, and it will maintain its quality.
We help your community look its best with completely customizable services. Whether you need entry sign cleaning, concrete cleaning, pool area cleaning, or more, we're here with the power washing expertise to make your project a success. The result: With our recurring cleaning options, your HOA or managed properties will be in prime condition all year long.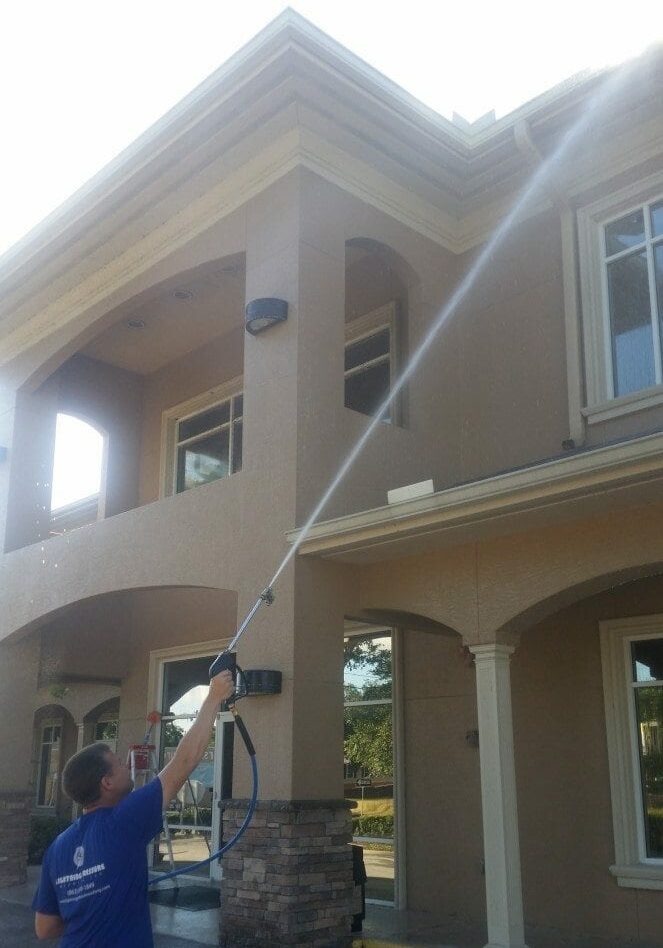 Our team helps your roof fight algae growth so it can look great and last for the long run. With soft washing, we can apply a low pressure washing technique to your shingles that will restore quality without ever harming your roofing. The result: Your roof will last for up to a decade longer, your insurance company will be happy, and your curb appeal will soar.
We have a solution if your fence, awning, porch, or patio is taking a toll on your property's beautiful first impression. Using power washing and soft washing, we remove all of the grime, stains, and fading that doesn't belong. The result: Every part of your property looks the part and is ready to last.
Our team increases ambience and safety measures for your pool area. We use pressure washing and soft washing to remove algae from your pool enclosure, slippery buildup from your pool deck, and stains from everything in between. The result: You can head to the poolside with the confidence that it's a pleasant, safe space to enjoy the sunshine.
We have the expertise and equipment to tackle any rust removal issue. As an authorized applicator of F9 BARC, our team can eliminate virtually any discoloration. We make golf cart fertilizer, battery, irrigation, and oxidation stains a thing of the past. The result: Your affected area won't erode, it will maintain quality, and it will restore curb appeal.
Lightning Pressure Washing helps your gutters help you. With our gutter cleaning service, they're able to protect your home from water damage on those rainy days. This means that your gutters should always be ready to channel rainwater away from your home. But if they're clogged, they can't perform as they should. This is where Lightning Pressure Washing can help.