Over the course of a few months, the weather in Florida can quickly make the exterior of your home look dirty. Many homeowners often have their homes washed and their roofs and gutters cleaned. Not many homeowners consider their high-traffic concrete areas as important. The concrete areas around your home should be maintained too such as driveways, walkways, and concrete patios.
That's because the buildup of dirt, grime, grease and oil, and other substances and contaminants not only makes your once clean concrete areas look dirty and unsightly, it also makes them unsafe.
The Importance of Concrete Cleaning
Of course, you want all areas of your home to look nice and exhibit great curb appeal. More importantly, you want them to be safe as well. A driveway or walkway that isn't properly cleaned could be a dangerous one. Your loved ones or visitors to your home could slip and injure themselves. Left untreated, all that dirt and grime contains contaminants that can cause the concrete to deteriorate, leading to cracks and chips.
A proper driveway, walkway, or patio cleaning will remove all contaminants and kill any mold and algae that has formed. Restore your concrete areas to their beautiful, clean, and safe condition.
Our concrete cleaning is fully trained, certified, and experienced, and equipped with the right tools to ensure the job is done right. Contact us today to learn more about residential concrete cleaning and to receive a free estimate.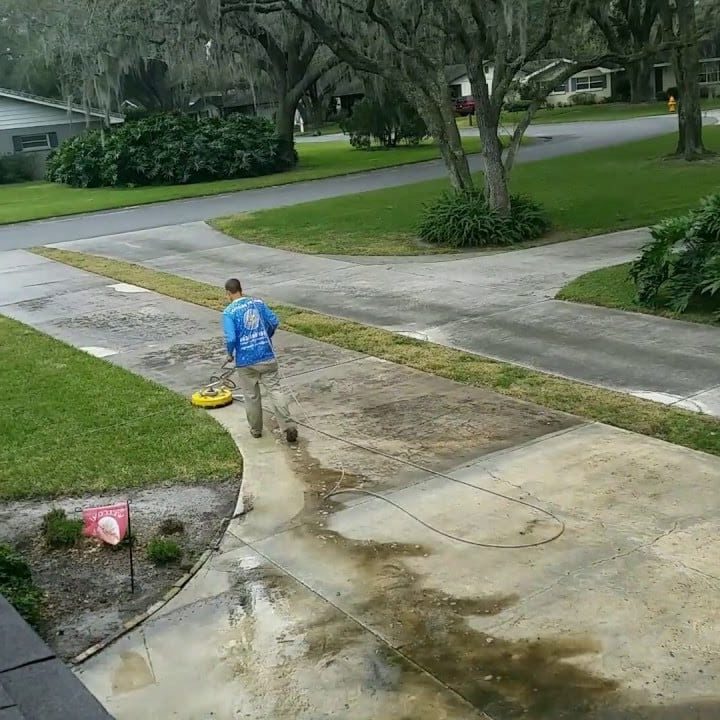 Posted in
Auburndale, FL
,
Avon Park,FL
,
Bartow,FL
,
Bradley Junction, FL
,
Brandon, FL
,
Celebration, FL
,
Dade City, FL
,
Davenport, FL
,
Haines City, FL
,
Highland City, FL
,
Highlands County, FL
,
Hillsborough County, FL
,
Lake Wales, FL
,
Lakeland FL Pressure Washing
,
Lakeland Highlands, FL
,
Lakeland, FL
,
Mulberry, FL
,
Osceola County, FL
,
Plant City, FL
,
Polk City, FL
,
Polk County, FL
,
Winter Haven, FL
,
Zephyrhills, FL
|
concrete cleaning
,
residential